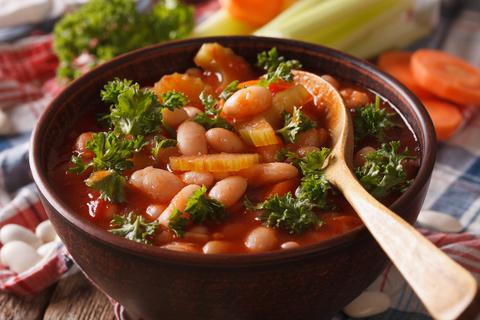 Makes 6 to 8
Hearty and warming Minestrone soup is perfect for the cooler days or for when you are feeling a little under the weather.
Minestrone soup is full of immune building nutrients to assist in building your immune system stronger.
Ingredients:
400g can of white (cannellini or navy) beans, rinsed and drained.
2 onions diced
4 crushed garlic cloves
2 tomatoes diced
1 carrot diced
1 celery stick diced
1 red capsicum diced
1 zucchini diced
8 cups of vegetable stock
200grams of tomato paste
Salt and pepper to season
Extra virgin cold pressed olive oil
Parsley for garnishing
Directions:
Combine all the ingredients together apart from the parsley and olive oil into a large saucepan and bring to boil. Once boiling reduce the minestrone soup to a simmer for 45 minutes. Serve into bowls, garnish with parsley and a little drizzle of olive oil.